How disgusting it would be if one is to attend an official meeting and cannot get his clothes pressed just for a squirrel disconnected the power supply in his area!
The squirrels are capable of troubling thousands of people at a time when it causes power outages. They are responsible for an impressive number of electrical issues each year.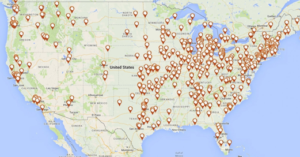 Each marker represents a documented squirrel-induced power outage since 1987- Credits: The Washington Post
The cables made of polymers attract squirrels. The squirrels get attracted to the texture and smell of the cables. With the help of their incisors, the squirrels gnaw these applications and leave them for no use. They destroy the power cables, signaling cables, automotive cables etc.
Damaged electrical wires can split and cause power failures. A person who comes into contact with chewed electrical wires can be electrocuted, which can cause serious injuries or death. Damaged electrical wires can also spark a fire.
Squirrels also damage bird feeders, flowers and vegetable gardens in the process of foraging for food. Squirrels gain access to homes, and especially attics, through small openings and other structural weaknesses.
Squirrel Causes Power Outage
By Gillian Pomplun March 14, 2018 SW News
CRAWFORD COUNTY – Like many, the offices of the Crawford County Independent newspaper were without power for a time in the morning of Wednesday, Feb. 28.
"An evil squirrel got into the substation in Seneca and took out both circuits," according to Scott Reigstad, an Alliant Energy spokesperson. "It wasn't a planned outage on our part, and we're not sure about the squirrel."
The outage started at 8 a.m. on Wednesday, Feb. 28, and lasted until 8:40 a.m. Gays Mills, Soldiers Grove, Ferryville, Mt. Sterling, Seneca, Eastman and Lynxville were without power during this time.
Squirrel takes out power in downtown Nashville
Natalie Allison, USA TODAY NETWORK – Tennessee Published 5:57 p.m. CT Jan. 22, 2018
Some residences and businesses lost power in downtown Nashville late Monday afternoon, thanks to the work of a squirrel.
Though it wasn't immediately clear how many Nashville Electric Service customers were affected by the early evening outage, it appeared the Metro courthouse was among buildings that lost electricity, causing the city council to temporarily adjourn multiple times.
"Unfortunately, the outage was caused by a squirrel and it took out an entire circuit," a representative from NES tweeted around 5:45 p.m.
By that time, power had been restored in most areas, though some repairs were still needed.
It also wasn't immediately clear what NES suspects the squirrel did to cause the outage, though the company noted that "squirrels are one of the top causes for power outages" and "unfortunately wander into places they shouldn't sometimes."
Metal armored cables, cables with glass roving etc. were used to prevent the damage caused by rodents to the wires and cables. But since the rodents can easily chew through the metals, these protection methods do not work. Other methods for pest control involve use of mechanical traps which fail to work on a mechanical error. Fumigation of pesticides is done to keep rodents away from the applications. Glue boards are used which are dangerous when children and pets are around. Rodent baits are one of the most dangerous methods used to kill the rodents.
All these methods have proved ineffective and have given no results. A need for use of effective products has aroused.
Is there a solution for this rodent menace?
We at C Tech Corporation have come up with a viable solution for this problem.
Our product Rodrepel™ is an extremely low toxic, non-hazardous rodent aversive. This product acts through a series of highly developed intricate mechanism ensuring that rodents are kept away from the target application. Our eco-friendly products do not kill the target species but only repel them.
The product triggers a fear response in rodents thus protecting the application. It causes severe temporary distress to the mucous membrane of the rodents due to which the pest stays away from the application. The product triggers an unpleasant reaction in case if the pest tries to gnaw away the application. After encountering the above-mentioned emotions, the animal instinctively perceives it with something it should stay away from and stores this information for future reference. The fact that certain rodents are repelled is mimicked by other rodents as well. Thus, the other rodents too stay away from the applications. The unpleasant experience is imprinted within the animal's memory and passed on to its progeny.
The products are available in the form of solid masterbatches which can be incorporated as a polymer additive in the cables used for various applications to make them rodent resistant. The masterbatch can be incorporated in polymeric wires and cables, electric switches and appliances while they are manufactured.
The already installed cables, electric junction boxes, cable carriers and ducts, etc. can be coated with our lacquer to protect them from the pests gnawing these applications and thus preventing power outages. The lacquer is transparent product and it does not wear off easily.
The liquid concentrate can be used by mixing it with the paints in a pre-determined ratio and applying it over the interior and exterior of the cable rooms and control rooms.
By using our products, you can get an effective and long-lasting solution against pest nuisance.
You could thus contribute with us in using products which are eco-friendly thus causing no damage to the environment.
Contact us at technical.marketing@ctechcorporation.com if you're facing problems with rodents and get best remedies to combat against the pest menace.
Also visit our websites:
http://www.ctechcorporation.com/
http://www.rodrepel.com/
http://www.termirepel.com/
http://www.combirepel.com/
Follow our Facebook pages at:
1] https://www.facebook.com/Combirepel-411710912249274/
2] https://www.facebook.com/Termirepel-104225413091251/
3] https://www.facebook.com/Rodrepel-120734974768048/
Follow us on our Twitter pages at:
1] https://twitter.com/rodrepel
2] https://twitter.com/termirepel
3] https://twitter.com/combirepel