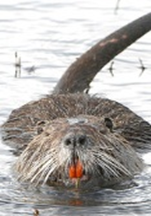 Swamp rats also known as orange-toothed species, coypu and nutria are the water-loving rodents that inhabit banks of rivers, lakes, lagoons, marshes, and swamps.
Swamp rats are about 1 meter in length measured from the end of its muzzle to the tip of its round scaly tail. It has short rounded ears and small eyes that are set high on the head to see clearly whilst swimming.
Swamp rats are native to South America but were introduced to the British lands. The Swamp rat's fur is specially adapted to keep it warm and dry in winter. Long, coarse guard hairs conceal and protect the soft velvety underfur. This under fur is the reason for the Swamp rats breeding in British lands.
The Swamp rats are a constant reminder of the folly of introducing foreign species into a new country without fully considering the consequences. The consequences are as follows:
Swamp rats bite into new territory, but overall Louisiana wetland damage down
By Tristan Baurick, Posted on July 5, 2017 | The Times-Picayune
Nutria is on the move, eating up marshes in three Louisiana coastal parishes that had been largely untouched by the invasive rodent for almost a decade. That's the bad news.
Since 2001, Nutrias have converted at least 42 square miles of land into open water, according to Wildlife and Fisheries.
The critters showed a renewed taste in the past year for Jefferson, St. Charles and Cameron parishes. These parishes had three of the six new damage sites noted in the 2017 Swamp rats survey. They hadn't suffered any new damage since 2009.
Nutria regular favorite, Terrebonne Parish, suffered the lion's share of the damage in 2017. Terrebonne had 82 percent of the total Swamp rats damage recorded in the latest survey. That's down from last year's estimate of 99 percent.
Across all coastal parishes, about 5,900 acres showed varying signs of Nutria damage.
Nigeria's Ailing President Returns Home to an Office Full of Rats
PHILIP OBAJI JR., 08.24.17 12:00 AM ET
Muhammadu Buhari, a career military man, had promised to run the war against Boko Haram with an iron fist. But he's clearly enfeebled, and the rodents are just one more problem.
CALABAR, Nigeria—Two days after President Muhammadu Buhari returned home—he had been away in London for 103 days receiving treatment for an undisclosed ailment—he managed to address the country. He looked frail and his speech was slurred in the broadcast early Monday morning, but he told his fellow citizens that he had been "kept in daily touch with events at home."
"Following the three months' period of disuse, rodents have caused a lot of damage to the furniture and the air conditioning units," Buhari's spokesman, Garba Shehu, told the local newspaper This Day as he explained why the president had not been to his office since his return.
It's still not clear what variant of the rat was responsible for the damage, there are many in Nigeria: thicket rats, swamp rats, shaggy rats, and more. But the infestation hit an office that was renovated only two years ago.
As the fur demand decreased the Swamp rats is considered as the pests in many areas, destroying aquatic vegetation, marshes, and irrigation systems, and chewing through human-made items, such as tires and wooden house paneling, eroding river banks, and displacing native animals.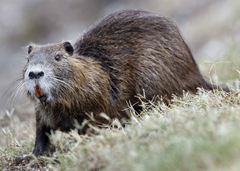 Swamp rats breed quickly and the breeding is continuous throughout the year. Besides breeding quickly the Swamp rats consume a large amount of vegetation. They feed yearly on plants including grasses, sedges, reeds, water parsnip, and even water lilies.
Swamp rats herbivory severely reduce overall wetland biomass and can lead to the conversion of wetland to open water. Swamp rats are typically more destructive in the winter than in the growing season, due largely to the scarcity of above-ground vegetation; as Swamp rats search for food, they dig up root networks and rhizomes for food.
On plots open to Swamp rats herbivory, 40% less vegetation was found that in plots guarded against Swamp rats by fences. Swamp rats fed more in the fertilized areas. Hence farmlands sprayed with fertilizers are more attracted by these Swamp Rats.
There are several methods used to control the Swamp rat infestation but are proving to be economically expensive and harmful to the environment. The rodenticide Zinc phosphide is used currently but is expensive and remains toxic for several months. The toxicity is reduced with the help of heavy rains but the toxic chemical enters into the water bodies.
Hence we need the best solution to combat against this orange-toothed pest.
CTech Corporation has the solution called as RodrepelTM which is extremely low toxicity and extremely low hazard, non-mutagenic, non-carcinogenic anti-rodent pest repellent.
The product RodrepelTM is developed by studying the natural repellency of plants against pests by using green chemistry and advanced technology.
RodrepelTM an eco-friendly rodent aversive works on the mechanism like fear, discomfort, aversion, training and association and conditioning.
RodrepelTM does not cause any harm to target as well as non-target species and hence helps to maintain the ecological balance.
RodrepelTM is available in three different forms viz. Masterbatch, Liquid Concentrate, and Lacquer. Masterbatch can be used while processing the polymeric applications such as wires, pipes, tires, agricultural equipment, etc. Liquid concentrate and Lacquer are the topical solutions that can be applied on the surfaces of fences, wooden house paneling, human-made items, etc.
Hence by using RodrepelTM one can have the best solution to combat against the destructive species- swamp rats.
Contact us at technical.marketing@ctechcorporation.com if you're facing problems with rodents and get best remedies to combat the pest menace.
Also, visit our websites:
http://www.ctechcorporation.com/
http://www.rodrepel.com/
http://www.termirepel.com/
http://www.combirepel.com/
Follow our Facebook pages at:
1] https://www.facebook.com/Combirepel-411710912249274/
2] https://www.facebook.com/Termirepel-104225413091251/
3] https://www.facebook.com/Rodrepel-120734974768048/
Follow us on our Twitter pages at:
1] https://twitter.com/rodrepel
2] https://twitter.com/termirepel
3] https://twitter.com/combirepel