An invention of the car revolutionized the lifestyle of humans. It gave rapid access to any place, giving us freedom and mobility. Probably no other invention, discovery, technological advance has created more changes in society. We use cars to visit our friends, travel to and from work, to run errands, to visit our native place, to go on an adventure. We enjoy long drives which help us in forgetting our worries at least temporarily.
Cars contribute to the development of a nation's economy and wealth; hence it is really important that every aspect of the car is well checked for any damage. Earlier every part of the car was made from metal, glass and plastic; petroleum-based products.
Nowadays, in quest of making environmentally friendly products every leading car manufacturer like Honda, Ford, General Motors, etc. have started manufacturing nature-friendly biodegradable based products. Insulation wirings, door cladding, seat back linings, package trays, seat covers, floor mats are now made from biobased natural ingredients. Let us look at some examples of bio-based parts currently in production:
Daimler:
To demonstrate its commitment to the development of biobased materials, the door cladding, seatback linings, and package shelves of the Mercedes Benz contain process flax, hemp, and sisal. Seat bottoms, back cushions, and head restraints contain coconut fibre and caoutchouc (a source of natural latex). Under-floor body panels are made using the abaca tree.
Ford:
Ford has also demonstrated a commitment to the biobased industry. The 2010 Ford Flex's third-row interior storage bins contained 20% wheat straw biofiller. Soy-based polyurethane foams have been placed in the seat cushions and seatbacks of the Ford Mustang. Part of the Ford Mustang GT RTD body is made of flax fibre-reinforced linseed-acrylate, which is a high-performance composite made of natural fibres embedded in a resin from the same plants.
Honda:
Honda has developed a plant-based fabric that is used for its vehicle interiors including seat covers, door coverings, headliners, floor mats, and other fabric-covered surfaces
Mazda:
In 2007, Mazda announced the development of a new fabric made entirely from plant fibres. Seat covers, instrument panel, door trim, and other interior fittings were to be manufactured using the same.
Toyota:
They make seat cushion material, radiator tanks and other components from bioplastics that use glycol from renewable sugar cane instead of petroleum-derived glycol.
Mercedes-Benz:
It uses recycled plastics in various components including wheel well liners, bumpers, air and water baffles; material from renewable natural fibres used in different components including interior trim pieces.
Biobased materials are used in the manufacturing of the automotive parts because they provide biodegradability due to the renewable nature of the source materials and they can be recycled. But as every coin has two sides this application also has drawbacks.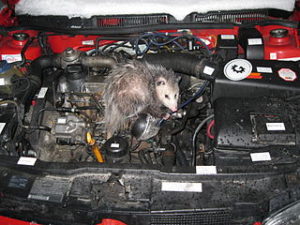 Plant-based wiring and furnishing in the car provide materials to rodents to build nests. Animals like a rat, pine marten, etc. have a pair of incisors which grow throughout their lives and to keep them in check they chew on anything sharp and hard like our automotive wirings, floor carpet, door cladding, etc. Also, these animals are attracted to the cars for warmth and shelter. Food stored in the cars attracts more animals.
An incident was reported on Feb 12, 2016, News on 6 in Oklahoma US, that Fellers Auto specialist owner, Tommy Fellers, said he's recently repaired 13 rat-related problems. He said, "We've been seeing an enormous amount of damage to cars' electrical systems and wiring and hoses from rats, mice, squirrels,". He said rodent damage happens fast and is extensive. He has seen wires, sensors and connectors chewed apart. He said the rodents can even travel through vents and into the dashboard. "The last case we had on a Ranger, the guy drove it every day and it took just one night for this to happen, and it was close to $2,500 worth of damage," Fellers said.
Meals on wheels: Hungry squirrels go nuts over this man's Honda
'I'm paranoid about this,' says Ottawa man after rodents gnaw biodegradable parts on his eco-friendly car
By Stu Mills • CBC News • October 29, 2018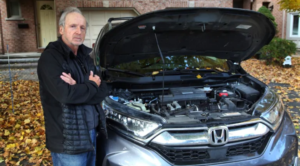 Lenard Broadhead says biodegradable materials used in his new Honda are so "eco-friendly," hungry squirrels find them irresistible.
Broadhead, who lives in Ottawa, says the rodents have made a series of targeted strikes on his air-filters, motors and fuel injector wiring, with repair costs eating away about $1,000 of his savings.
Now his new routine is to remote-start his vehicle from a safe distance and then watch the underside for escaping squirrels.
"I'm paranoid about this because it's freaking expensive," Broadhead said.
Rodents May Have Flavor Fetish For the Wiring Insulation in Newer Vehicles
By Matt Posky on May 17, 2018; The Truth About Cars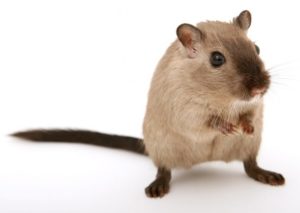 Since at least 2010, soy-based bio-plastics have been a popular alternative for wiring insulation in automobiles. But there's a problem — rodents love how it tastes. This has allegedly resulted in a surprisingly high number of owners reporting that rats chewed through the wiring inside their automobile.
According to the Detroit Free Press, the growing rat problem isn't the result of paranoia, either. John Pappas, the owner of Main & Hudson Service in Royal Oak, Michigan, claims he sees at least one vehicle every month with gnawed-on wires. "They're going environmental on the wires," he said. "There's good and bad in everything. It is a common issue."
Looking at above-mentioned facts and figures, there is an immediate need of a solution. We at C Tech Corporation can provide with a low toxic, low hazard, effective and efficient solution. RodrepelTM is an anti-rodent, anti-animal polymer additive. It is specially designed for the polymeric application. The masterbatch can be incorporated in insulation, wires, door cladding, carpet, plastic accessories, seat cushions, car covers, polymeric switch panels, components of ignition box, fuel tanks, fuel hoses, foam seats, etc. RodrepelTM lacquer can be coated on already installed wires, polymeric hoses, fuel tanks, battery box, ducts, door cladding, etc.
Our newly developed product in the form of spray is a must-have product for every car owner! The Rodrepel™ Rodent Repellent Spray is specially designed for cars. The product can be sprayed on the car components after clearing the dust and waste from the components. The product when applied properly repels the rodents and protects the cars from rodent damage.
RodrepelTM  works on the mechanism of repellence. It does not kill target species but only repels them.
Our product is FIFRA (Federal Insecticide Fungicide and Rodenticide Act) exempted and is also REACH, RoHS, and RoHS 2, ISO, APVMA, NEA, EU-BPR complaint.
RodrepelTM will be the best solution to keep rodents away from your cars.
Contact us at technical.marketing@ctechcorporation.com if you're facing problems with rodents and get best remedies to combat this menace.
Also, visit our websites:
http://www.ctechcorporation.com/
http://www.rodrepel.com/
http://www.termirepel.com/
http://www.combirepel.com/
Follow our Facebook pages at:
1] https://www.facebook.com/Combirepel-411710912249274/
2] https://www.facebook.com/Termirepel-104225413091251/
3] https://www.facebook.com/Rodrepel-120734974768048/
Follow us on our Twitter pages at:
1] https://twitter.com/rodrepel
2] https://twitter.com/termirepel
3] https://twitter.com/combirepel