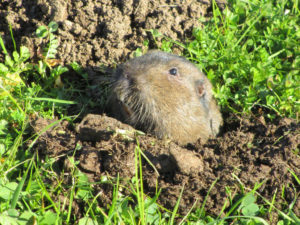 Presence of Gophers is a serious problem, as it destroys the underground utility cables and wires, water lines, irrigation pipes etc. Damage done by Gopher is severe in the fall and spring when they are active near the soil surface. Pocket gophers are the rodents whose size is from 5 to 14 inches long.
Pocket gophers have pouches outside their mouth, on each side of the face there is on pouches. As these pockets can be turned inside and outside and they are used to carry food.  They have fur with black, brown and white colors. Pocket gophers heads are small flattened and have small ears and eyes.
Gophers are one the one which are extremely well adapted and built for an underground existence. The gopher lives most of its life below the surface where they dig a burrow system. A gopher can create large mounds. Gopher can dig extensively which can be very deep up to several hundred feet. As they dig burrows, they push the soil to the surface due to which a mound is created, usually in the shape of a fan. Gopher tunnels are sometimes not visible on the ground surface due to their deeper location.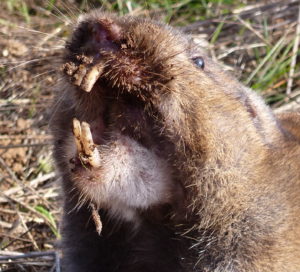 Let's have a look at the evidence,
Gopher chews through fiber optic line
Frontier Communications technicians were called out early on Nov. 14 after a fiber optic cable line was cut in the McCornick area, effectively downing services across the county.
According to Paul Clark, data and phone services were lost countywide around 3 a.m., after gophers chewed through a 48-strand fiber.
"Everything on the east side of the county was down," Clark said. "Anyone on a circuit would have been affected."
The outage knocked out emergency services, causing 911 calls to be rerouted to a backup in Richfield.
"This happens about once or twice a year," said Clark about pest damage to fiber optic lines. "And of course it had to happen in the middle of the night."
Approximately 900 feet of fiber was replaced, covered in conduit, and buried underground. The conduit should deter or slow rodent damage, Clark said.
The Millard County Sheriff's Office reported 911 was rerouted back to local offices around 4:30 p.m. Circuits were repaired by 9:30 p.m., with services operational by midnight, Clark said.
As of Nov. 19, all services "should be up and running," Clark said. If customers are still experiencing difficulties connecting or have no service, contact Frontier.
Delta customers now have the chance to experience wireless Internet across the city. Newly installed, the new routers have signal that broadcasts up to five miles outside of city limits, Clark said.
Gopher Bounties Still an Incentive for Trappers in Sherburne County, Elsewhere
Jerry Ehlenfelt would likely continue trapping pocket gophers regardless.
The burrowing rodents and the mounds they create pose a nuisance on the 30 acres of land the retired Vietnam veteran owns between Big Lake and Elk River in Sherburne County.
But, the $2 per gopher bounty he's able to collect from Big Lake Township each year makes the time he spends doing so even more worthwhile.
"It definitely provides you with a little more incentive to go out and get them," said Ehlenfelt, who turned in around 55 gophers last year. "I'd probably have to do it anyway. Those mounds can become a real issue
C Tech Corporation   can offer a solution to overcome the damage caused by squirrels. RodrepelTM   is an anti-rodent, and animal aversive which is extremely low in toxicity and extremely low hazard, environmentally safe solution. It does not kill target species but only repels them. It is engineered using a unique set of complex compounds. It follows 6 pronged strategy which is extremely effective on rodents like the squirrel, rat, beaver, gopher, paca, marmot, etc.
RodrepelTM is available in the form of a masterbatch, liquid concentrate, lacquer, and sprays.
The masterbatch can be incorporated in cable sheathing. The product in the form of liquid concentrate can be diluted in Paints and organic solvents and can be applied. The lacquer which is a topical application can be directly applied on the already installed wires and cables.
Our newly developed products,  RodrepelTM Pest Repellent Spray is an easy to use product which can be easily sprayed so as to as avoid the rodents and other pests from entering them.
RodrepelTM  is cost-effective, inert, and thermally stable and does not degrade on exposure to heat and sunlight. It does not volatilize and does not degrade in the soil. It is RoHS, RoHS2, REACH, NEA, EU BPR, APVMA compliant and FIFRA exempted.
Contact us at technical.marketing@ctechcorporation.com if you're facing problems with rodents and get best remedies to combat the pest menace.
Also, visit our websites:
http://www.ctechcorporation.com/
http://www.rodrepel.com/
http://www.termirepel.com/
http://www.combirepel.com/
Follow our Facebook pages at:
1] https://www.facebook.com/Combirepel-411710912249274/
2] https://www.facebook.com/Termirepel-104225413091251/
3] https://www.facebook.com/Rodrepel-120734974768048/
Follow us on our Twitter pages at:
1] https://twitter.com/rodrepel
2] https://twitter.com/termirepel
3] https://twitter.com/combirepel