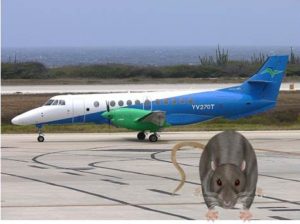 Aviation is one of the most 'global' industries: connecting people, cultures and businesses across continents. Aviation has continued to expand. Aviation provides a rapid worldwide transportation network, which makes it essential for global business.
Another species which is making the most of this means of transport is the rodents!! Contrary to popular belief they are making these huge carriers their home. In the recent years, there have been numerable incidents of rodent sightings on planes domestic as well as international. So why do these creatures want to be airborne?
Airports often provide good year-round habitat for rodent populations. Rodents at airports can cause damage directly by gnawing and burrowing activities.
Recently Germany's Federal Finance Minister Olaf Scholz's travel through his jet was canceled not due to bad weather or mechanical problems, but because the rodents had bitten through the electrical cables.
News reported was:
Travel stress in Bali: rodents paralyze Olaf Scholz government plane
October 13, 2018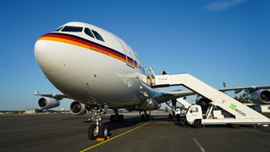 Olaf Scholz actually wanted to return home quickly from the IMF meeting in Bali – just in time for the Bavarian election. But the Vice Chancellor's jet was not ready to go. The reason: damage caused by hungry rodents.
A rather unusual case of damage has caused travel stress for Federal Finance Minister Olaf Scholz. Because of a broken government plane, the SPD politician had to reschedule his return from the IMF meeting in Bali.
The Airbus "Konrad Adenauer" was damaged in Indonesia by rodents, which apparently have bitten through electrical cables. This was announced on Saturday on the sidelines of the annual meeting of the International Monetary Fund (IMF) from delegation circles. Vice Chancellor Scholz was rebooked on a scheduled flight to Germany.
Since he had to go to the airport immediately to be back in Germany because of the eagerly awaited state election in Bavaria, Scholz could not also deny the traditional final press conference with Bundesbank President Jens Weidmann.
Earlier a news was reported as:
MOUSE SPOTTED ON PLANE COSTS BRITISH AIRWAYS QUARTER OF A MILLION POUNDS
Roaming rodent triggers £250,000 bill for passenger care and compensation
By Simon Calder │March 1, 2017
British Airways faces a massive bill to compensate passengers after a mouse was spotted on a Boeing 777 about to depart from Heathrow to San Francisco.
Flight BA285 was due to leave Terminal 5 at 10.40am, but the presence of a roaming rodent meant the original aircraft could not be dispatched. Because mice have been known to gnaw through wiring on planes, wide-ranging checks must be made to ferret out any problems.
A chewed cable could be located anywhere between the tail and the ram air turbine (RAT).
Periodic fumigation for pest control is done by airlines to tackle the menace. Use of rat baits, mechanical traps, and glue boards have already proved to be ineffective. But the growing number of incidences reported clearly states the ineffectiveness of these methods.
Rats on board an aircraft can lead to a catastrophe if they start chewing up electric wires and if that happens, pilots will have no control over the system on board leading to a disaster.
What effective measures can be implemented to avoid this menace?
Rodrepel™ is a product manufactured by C Tech Corporation which is an extremely low toxic and extremely low hazard, and environmentally safe anti-rodent additive specially developed for a range of polymeric and coating applications including films, wires, and cables, etc. It is also effective in case the target species are other animals.
The wires and cables used in the airplanes for radar, communication, control, signaling, data transmission, lighting, surveillance etc. can be incorporated with Rodrepel™ masterbatch to prevent them from pest attack and ultimately avoid any signaling loss, communication disruption or fire hazard. Different types of polymeric seats can be manufactured by incorporating our masterbatch in them.
Rodrepel™ is also available in lacquer and liquid concentrate form and can be easily coated onto an application to repel the rodents.
The liquid concentrate can be blended with paints and applied to the interior and exterior of the airplanes to prevent the entry of pest in them. The liquid concentrate can be applied to the interior and exterior of the airports and the offices. The storage areas from the airports can be coated with our liquid concentrate to keep those places safe from pest menace. The liquid concentrate can be used in accommodation areas of pilots and crew members. The liquid concentrate is compatible with all types of paints and it dries off easily.
The lacquer can be applied on already installed wires and cables, utility pipes, polymeric and metallic racks, pallets. The already installed arrestor cables can be coated using our Rodrepel™ lacquer which will prevent the rodents from chewing them. The lacquer can be applied to metallic components from the equipment. The lacquer is an easy application which is compatible with most of the surfaces like wood, concrete, polymer, ceramics, concrete etc.
Our product CombirepelTM bird repellent lacquer can be used in the airport premises to prevent the nuisance caused by birds.
We have developed our product in the form of a spray, the RodrepelTM rodent repellent spray which is an easy to use product. The product can be sprayed on components from airplanes, offices, kitchen and canteen areas, storage areas, food carts, trolley cars, etc. after clearing the dust and waste from components. It can be sprayed on the wires and cables, seat cushions, doors, and windows of airplanes. It can be sprayed on infested areas and entry points. The product when applied properly repels the pests and protects the components from damage. The expensive components can thus be protected, and unnecessary maintenance cost spent on replacement of the parts damaged by pests can be saved. The product does not cause any harmful effect on human health, non-target species or even target species. The product is safe for the environment.
Contact us at technical.marketing@ctechcorporation.com if you're facing problems with rodents and get best remedies to combat the pest menace.
Also, visit our websites:
http://www.ctechcorporation.com/
http://www.rodrepel.com/
http://www.termirepel.com/
http://www.combirepel.com/
Follow our Facebook pages at:
1] https://www.facebook.com/Combirepel-411710912249274/
2] https://www.facebook.com/Termirepel-104225413091251/
3] https://www.facebook.com/Rodrepel-120734974768048/
Follow us on our Twitter pages at:
1] https://twitter.com/rodrepel
2] https://twitter.com/termirepel
3] https://twitter.com/combirepel