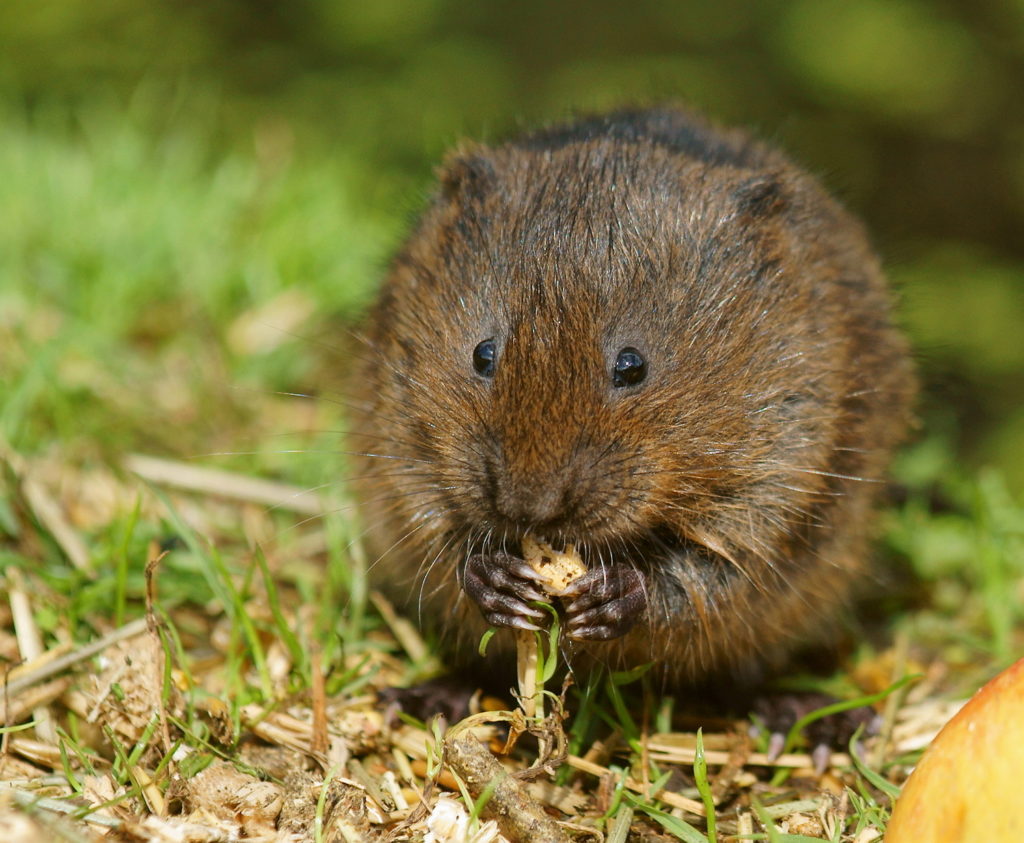 Voles are mouse like rodents of the family 'Cricetidae'. Voles are often mistaken for mice; one of the best ways to differentiate these two rodents is by tail length. They are commonly called as meadow mouse.

Voles dig many short and shallow burrows underground and make their nest of leaves, grass, stems etc. In areas with winter snow, voles will burrow in and through the snow to the surface.
Types of voles:
Prairie Vole: commonly found in the Great Plains grasslands also in a variety of habitats, such as old fields, marshlands, and grass prairies.
Meadow Vole: found in the northern United States and Canada.
Long-tailed Vole: found in a wide variety of habitats (for example, sagebrush grasslands, forests, mountain meadows, and stream banks) in the western United States and Canada.
Pine Vole: found in the eastern United States. It inhabits a variety of habitats such as deciduous and pine forests, abandoned fields, and orchards.
Montane Vole: found primarily in mountainous regions of the western United States. It is found in alpine meadows, dry grasslands, and sagebrush grasslands. It avoids forests.
Oregon Vole: most often found in forested areas of northern California, Oregon, and Washington where there is an understory of forbs and grasses such as in burned or clear-cut areas.
California Vole: inhabits the chaparral shrubland of California.
Voles cause damage by feeding on a wide range of garden plants including artichoke, beet, Brussels sprouts, cabbage, carrot, cauliflower, celery, lettuce, spinach, sweet potato, tomato, and turnip. They also can damage turf and other landscape plantings such as lilies and dichondra. Voles will gnaw the bark of fruit trees including almond, apple, and avocado, cherry, citrus, and olive. They are poor climbers and usually don't enter homes or other buildings. Instead, they inhabit wild lands or croplands adjacent to buildings or gardens and landscaped sites with protective ground cover. Most problems around homes and gardens occur during outbreaks of vole populations.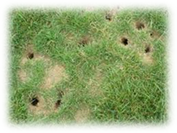 Vole attacks on our fields and crops. If vole gnaws completely around the trunk or roots, it will disrupt the tree's flow of nutrients and water, a process known as girdling. Girdling damage on trunks and roots can kill trees.
Signs of partial trunk or root girdling for a prolonged time before young trees bear fruit, reduced fruit yield, abnormal yellowish leaf color, and overall poor vigor. Where snow cover is present, damage to trees can extend a foot or more up the trunk. The damage that occurs beneath snow cover often escapes notice until it is too late.
Evidence showing vole damages:
Vole control: Know your enemy, expert says
TWIN FALLS, Idaho — Voles have wreaked havoc on southern Idaho cropland and pastures over the past two years, and controlling the population of the tiny pests has proved difficult.
High populations of the mouse-like rodent can easily cause 30 percent yield loss, and some producers in southern Idaho have reported up to 50 percent yield losses, University of Idaho Extension Educator Carlo Moreno told the UI Bean School on Jan. 27.
Vole problems mount in Eastern Idaho
IDAHO FALLS — Eastern Idaho alfalfa producers are mulling options to better control a vole outbreak that has already forced some growers to pull fields out of hay prematurely.
University of Idaho Extension cereals educator John Hogge said he's fielded several calls from alfalfa growers seeking advice on protecting crops from voles, which haven't been held in check by zinc phosphide, the region's rodenticide of choice.
Hogge estimated the cost of buying and applying zinc phosphide at $20 per acre and said some growers have made three or four applications, with little impact.
C Tech Corporation can offer a solution to overcome the damage caused by voles. RodrepelTM is an extremely low toxic, extremely low hazard, non-carcinogenic and environmentally safe, anti-rodent additive. It does not kill but repel. It is engineered using unique set of complex compounds. It follows 6 pronged strategies which are extremely effective on rodents like voles, squirrel, rat, beaver, gopher, paca, marmot, etc.
RodrepelTM masterbatch can be incorporated in polymer pipes, irrigation pipes, drip tapes, silage bags, agriculture films, mulches, etc. RodrepelTM Liquid concentrate can be added to paints which can then be applied to fencing of trees, house, lawns, etc. RodrepelTM lacquer is a topical application which can be directly applied on the surface or equipment to be protected.
RodrepelTM is cost effective, inert, and thermally stable and does not degrade on exposure to heat and sunlight. It does not volatilize and does not degrade in the soil. It is RoHS, RoHS2, RoHS3, EU BPR, NEA, REACH compliant and FIFRA exempted.
Hence by using RodrepelTM the lawns, farms and gardens can be prevented from vole damage effectively and considerably.
Contact us at technical.marketing@ctechcorporation.com if you're facing problems with rodents and get best remedies to combat the pest menace.
Also, visit our websites:
http://www.ctechcorporation.com/
http://www.rodrepel.com/
http://www.termirepel.com/
http://www.combirepel.com/
Follow our Facebook pages at:
1] https://www.facebook.com/Combirepel-411710912249274/
2] https://www.facebook.com/Termirepel-104225413091251/
3] https://www.facebook.com/Rodrepel-120734974768048/
Follow us on our Twitter pages at:
1] https://twitter.com/rodrepel
2] https://twitter.com/termirepel
3] https://twitter.com/combirepel