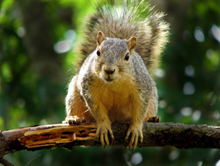 Electrical disruptions caused by squirrels are common and widespread and can involve the disruption of power grids. It has been supposed that the threat to the internet, infrastructure and services posed by squirrels may exceed that posed by terrorists
A squirrel can disrupt a power system if its body becomes a current path between electrical conductors. Such incidents are result in power outages and are not good for the squirrel either.
A squirrel can disrupt a power system if its body becomes a current path between electrical conductors. Such incidents are result in power outages and are not good for the squirrel either.
Squirrels damage electrical distribution facilities by tunneling, by chewing through electrical insulation, or by simultaneously coming into contact with two conductors at different electrical potentials.
Squirrels have four teeth in the front of their mouth that constantly grow throughout their lives. This ensures that their teeth don't wear down to nubs from gnawing on nuts and other objects.
The Washington Post reported in 2015 that the squirrels cause anywhere from 10 to 20 % of all outages.
The small animals are responsible for up to 2/3rd of the power outages at some utilities.
Recent news reported are:
Madison County squirrels caused 260 power outages in 2018
By Chris Joseph | December 18, 2018
HUNTSVILLE, AL (WAFF) – Squirrels are one of the biggest threats to the Valley's electrical infrastructure.
Huntsville Utilities director of communications Joe Gehrdes said there were 260 power outages caused by squirrels, 54 caused by birds, and eight caused by "other wildlife" in 2018.
Gehrdes estimated there were 1,200 outages for the year in total, meaning animals (with 322 outages) made up roughly a fourth of the damage.
"Animals aren't really a surprising nuisance for us, it's just a fact of doing business in the electric industry," he said.
Gehrdes said squirrels will climb up power poles and come in contact with two pieces of electric equipment. The squirrels body would then become a conductor for the energy, electrocuting the squirrel and damaging the components.
Squirrel causes power outage, traps people in elevators
By Ben Hooper │November 26, 2018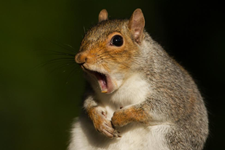 Nov. 26 (UPI) — A squirrel was blamed for a power outage in Virginia that left nearly 600 customers without power and trapped several people in elevators.
Appalachian Power said the outage, which began about 9:20 a.m. Monday, was caused when a squirrel came into contact with equipment at the 7th Street substation in Roanoke.
The incident knocked out power to nearly 600 customers and emergency workers said several people were subsequently rescued from elevators, including one person stranded near the sixth floor of a building.
All four front teeth of a squirrel never stop growing; if they did, they would be gnawed down to nothingness.
What can be the effective steps taking to keep them away from the applications.
C Tech Corporation can offer a solution to overcome the damage caused by squirrels. RodrepelTM is an anti-rodent and animal aversive which is extremely low in toxicity and extremely low hazard, environmentally safe solution. It is engineered using a unique set of complex compounds. It follows 6 pronged strategies which are extremely effective on rodents like the squirrel, rat, beaver, gopher, marmot, etc.
RodrepelTM is available in the form of a masterbatch, liquid concentrate, lacquer, wood polish additives and sprays.
The masterbatch can be incorporated in cable sheathing. The product in the form of liquid concentrate can be diluted in Paints and organic solvents and applied to cables. The lacquer which is a topical application can be directly applied on the already installed wires and cables, cabinets and transformer boxes. The wood polish additives can be mixed with the wood polish and applied on wooden surfaces.
Our newly developed products, Rodrepel™ Rodent Repellent Spray is an easy to use product which can be sprayed on wires and cables, electronic appliances, cabinets, so as to as avoid the rodents from entering them.
RodrepelTM is cost-effective, inert, and thermally stable and does not degrade on exposure to heat and sunlight. It is RoHS, RoHS2, REACH, NEA, EU BPR, APVMA compliant and FIFRA exempted.
Contact us at technical.marketing@ctechcorporation.com if you're facing problems with rodents and get best remedies to combat the pest menace.
Also, visit our websites:
http://www.ctechcorporation.com/
http://www.rodrepel.com/
http://www.termirepel.com/
http://www.combirepel.com/
Follow our Facebook pages at:
1] https://www.facebook.com/Combirepel-411710912249274/
2] https://www.facebook.com/Termirepel-104225413091251/
3] https://www.facebook.com/Rodrepel-120734974768048/
Follow us on our Twitter pages at:
1] https://twitter.com/rodrepel
2] https://twitter.com/termirepel
3] https://twitter.com/combirepel