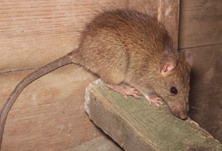 There are many key indicators of a roof rat infestation in the home. First and foremost, seeing an actual rodent, dead or alive, is a sign of a potential roof rat problem. Another common sign of a roof rat infestation is the presence of droppings around the home.
Roof rats are named so because of their excellent climbing abilities that allow them to easily access the upper parts of structures; they are also highly adaptable and can survive in a variety of environments. Typically living in colonies, roof rats prefer to nest in the upper parts of buildings, such as attics and roof decks. They can also be found under, in and around structures, as well as in piles of wood or garbage.
Roof rats only live up to one year but have the ability to produce as many as 40 new offspring during their lifetime.
Due to their gnawing ability, they gnaw on any possible surface may that be wood, polymer, metal, etc. to keep their teeth in check. But this ability of the rodents causes huge bucks of repair to the homeowners. Recent news reported are:
Roof rats find shelter in quasi-abandoned homes here
By Paul Maryniak, AFN Executive Editor │October 3, 2018
Roof rats are making themselves at home in Ahwatukee – literally.
They're invading unattended houses – even coming from the sewer system and up through dry toilets to get inside – destroying carpets, ventilation ducts and anything else they can gnaw their way through and creating a potential health hazard for the entire neighborhood.
"In one of the retirement subdivisions between 48th and 51st streets, they absolutely devastated a home that hasn't been lived in for a few years," said Karen Young, assistant general manager for the Ahwatukee Board of Management.
The rats also "opened the door" for rabbits, added Young, who said that neighbors who entered the house found a dead baby bunny and roof rats, a ruined carpet and a bathtub full of droppings.
Woman says roof rats infestation forced her to move out of a senior living center
By Nick Ciletti │ July 10, 2017
Rats crawling inside her walls, feces all over the place, and a stench so bad, it was making her sick.
A Scottsdale grandmother tells us – it's a living nightmare. And her own, private hell has only gotten worse — all because of roof rats.
76-year-old Kathy Marcil and her family are blaming management at the Pueblo Norte Senior Living Facility in Scottsdale. But it's not because of what they did – it's because of what this family says they didn't do.
The traditionally used methods for rodent control involve the use of mechanical traps which fail to work on a mechanical error. Fumigation of pesticides is done to keep rodents away from the applications. Glue boards are used which are dangerous when children and pets are around. Rodent baits are one of the most dangerous methods used to kill the rodents. Rodenticides like Bromadiolone inhibits the coagulation of their blood.
The logistics of using traps or rodenticides is not at all a solution to this menace.
When all these methods have proved to be ineffective, why rely on them? You can use products that repel these rodents instead of killing them thus balancing the eco-system.
At C Tech Corporation we provide you with the effective solution. Our product RodrepelTM is developed by using green technology. It is an extremely low concern, low toxic, low hazardous and non-mutagenic animal aversive. It is durable under extreme climatic conditions.
Our product works on the mechanism of repellency. The product triggers a fear response in rodents thus protecting the application. It causes severe temporary distress to the mucous membrane of the rodents due to which the pest stays away from the application. The product triggers an unpleasant reaction in case if the pest tries to gnaw away the application. After encountering the above-mentioned emotions, the animal instinctively perceives it with something it should stay away from and stores this information for future reference. The fact that certain rodents are repelled is mimicked by other rodents as well. Thus, the other rodents too stay away from the applications. The unpleasant experience is imprinted within the animal's memory and passed on to its progeny.
Our product is ROHS, ROHS2, EU BPR, APVMA, NEA compliant and FIFRA exempted. Our product does not cause harm to targeted as well as non-targeted species. It just repels them from the applied product. It works on the mechanism of repellency.
RodrepelTM is available in the forms of masterbatch, liquid concentrate, and lacquer.
Masterbatch can be incorporated into polymeric applications like fencing, water pipes, agricultural films, polymeric tree guards, wires, cables, etc. This would result in the final application being rodent repellent.
Liquid concentrate can be mixed in paints in a pre-determined ratio and be applied to the interior and exterior of houses, ceilings, gardens, farms, outhouse, etc. to repel roof rats from the area required.
Lacquer form can be directly applied to the already installed application such as attics, wooden fences, guards, pipes, wires, cables, etc. The lacquer is compatible with most of the surfaces like metal, wood, concrete, polymer, ceramic etc.
We have developed our product in the form of a spray, the RodrepelTM rodent repellent spray which is an easy to use product. The product can be sprayed on components from homes, offices, kitchen, storage areas, attics, etc. after clearing the dust and waste from components.
Hence by using RodrepelTM, homes, farms, and gardens can be prevented from roof rat damage effectively and considerably.
Contact us at technical.marketing@ctechcorporation.com if you're facing problems with rodents and get best remedies to combat the pest menace.
Also, visit our websites:
http://www.ctechcorporation.com/
http://www.rodrepel.com/
http://www.termirepel.com/
http://www.combirepel.com/
Follow our Facebook pages at:
1] https://www.facebook.com/Combirepel-411710912249274/
2] https://www.facebook.com/Termirepel-104225413091251/
3] https://www.facebook.com/Rodrepel-120734974768048/
Follow us on our Twitter pages at:
1] https://twitter.com/rodrepel
2] https://twitter.com/termirepel
3] https://twitter.com/combirepel