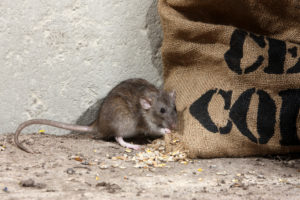 A country where starvation deaths and undernourished children fail to wake up the government from a deep slumber, a minute wastage of foodgrain is a crime. However, the awful condition in which the warehouses are maintained is a sign of why there is massive wastage of foodgrain in the country.
According to FCI guidelines, foodgrains should be stored in covered godowns or properly stacked on wooden crates with waterproof sheets on them. However, most of the bags lay uncovered, exposing the grains to damage. Some warehouses have no wooden crates, bamboo mats or polythene sheets to prevent migration of moisture from the floor. The sacks are not piled up properly to prevent decay; the bottom sacks are kept on the floor, which bore bite marks by rats. You can even find water dripping through the ceilings and even rodent burrows. These are ideal breeding grounds for a variety of pests.
Rats are prolific breeders and a pair of these can multiply into hundreds in a single year. Rats are also known to introduce other pests, such as fleas, mites, and ticks into the premise, causing additional damage.
A rat's bowel movements are very frequent, a rodent discharges between 25-150 pellets of excreta per day, according to Narendra Wagle, former chairman of the Consumer Guidance Society of India (CGSI).
But what's even worse is the invisible contamination of food by rat urine between 25-50ml per day percolating through the bags in which the grain is stored in godowns. And this is the food that the Prevention Of Food Adulteration (PFA) Act guarantees as clean enough to eat. Clean enough to land up as staple food on our plates, or in biscuits and bread, or in the 24 million tonnes of grain supplied through the public distribution system.
We have come across some horrible figures for damage of food in warehouses in India:
Grain drain
By Kumar Vikram  |   Published: 25th March 2018
NEW DELHI: About 57,676 tons of foodgrain stored in Food Corporation of India (FCI) godowns have got damaged and become useless for human consumption in the past five years owing to pest attack, leakage in godowns, exposure to rain and floods, procurement of poor quality stock etc. This amount was sufficient to feed more than 1.15 crore people for a month, according to a report by the Ministry of Consumer Affairs. Some amount of foodgrain also gets wasted during transportation in trains and trucks.
62,000 tonne: Foodgrain wasted by FCI
By dna Correspondent  |    May 22, 2017
While India ranks 55th in the Global Hunger Index (GHI), an RTI reply has revealed that around 62,000 tonnes of foodgrains, mainly rice and wheat have been damaged in the godowns of the Food Corporation of India (FCI) in the last six years with Maharashtra topping the list of states. Every year, crores of rupees are spent to prevent decay and then again a whopping sum is spent to dispose of the piled up waste.
In 2016-17 (up to March 1), damage of 8,679 tonnes of foodgrains was reported, with Maharashtra topping the list of states with 7,963 tonnes. Sources said there are various reasons for the damage of foodgrains, including pest attacks, leakages in godowns, procurement of poor quality stocks, exposure to rains, floods, and negligence on the part of the persons concerned in taking precautionary measures.
Rodents act as the primary hosts of Hantaviruses, Hantavirus Pulmonary Syndrome, Hemorrhagic Fever with Renal Syndrome, Lassa Fever, Leptospirosis, Lymphocytic, Chorio-meningitis (LCM), Omsk Hemorrhagic Fever, Plague, Rat-Bite Fever, Tularemia. Infected rodents shed the virus through saliva, urine, and feces.
Many methods are used to keep pests away from warehouses like fumigation, rodent mechanical traps, zappers, glue boards, rodent baits but these have proved to be inefficient.
When these methods are proved to be inefficient, why to depend on them?
But is there any effective solution available?
Yes, C Tech Corporation's RodrepelTM is the best solution to keep rodents away from the warehouses and hence from human contact.
RodrepelTM is a low-toxic, non-hazardous and rodent aversive. This product works on the mechanism of repellency.
RodrepelTM triggers a fear response in rodents thus protecting the application. It causes severe temporary distress to the mucous membrane of the rodents due to which the pest stays away from the application. The product triggers an unpleasant reaction in case if the pest tries to gnaw away the application. After encountering the above-mentioned emotions, the animal instinctively perceives it with something it should stay away from and stores this information for future reference. The fact that certain rodents are repelled is mimicked by other rodents as well. Thus, the other rodents too stay away from the applications. The unpleasant experience is imprinted within the animal's memory and passed on to its progeny. RodrepelTM
RodrepelTM is available in liquid concentrate which can be diluted in paints and can be applied to interior and exterior of warehouses. The product is safe for the storage of grains. The product can be used in the storage areas to keep the pests out of these places.
The product is available in lacquer form which is a direct application. The lacquer can be applied to the wooden accessories used in warehouses. It can be applied to already installed racks, pallets, wires and cables, polymeric utility pipes and equipment used in warehouses. The product is compatible with most of the surfaces like metal, wood, concrete, polymer, ceramic etc.
The product available in the form of masterbatch can be incorporated into the polymeric applications like polymeric bags and racks used for storage of grains, wires, and cables, pipes, equipment, and accessories from the warehouse while they are manufactured.
The product is also available in the form of wood polish additive which can be applied to the storage racks.
The product available in the form of bird repellent lacquer can be applied to the beams and trusses of the warehouses which will keep the birds away.
The product is compliant with RoHS, RoHS2, APVMA, NEA and REACH and is FIFRA exempted.
If you are facing problems from these pests that contact us on technical.marketing@ctechcorporation.com
Also, visit our websites:
http://www.ctechcorporation.com/
http://www.rodrepel.com/
http://www.termirepel.com/
http://www.combirepel.com/
Follow our Facebook pages at:
1] https://www.facebook.com/Combirepel-411710912249274/
2] https://www.facebook.com/Termirepel-104225413091251/
3] https://www.facebook.com/Rodrepel-120734974768048/
Follow us on our Twitter pages at:
1] https://twitter.com/rodrepel
2] https://twitter.com/termirepel
3] https://twitter.com/combirepel