When electricity was discovered it took out the darkness and spread the light everywhere. As the consumption increased, electricity was generated in central power stations. Post that we have been using electricity for many applications. Electricity became the lifeline of sectors like railways, agriculture, telecommunication, etc. It also helped to increase the wealth and GDP of the nation. Today many countries measure their wealth in terms of how much electricity they produce annually. Hence we cannot afford any disturbances in the production and distribution of electricity.
Electric appliances have made our lives easier. Now our day to day life depends on them. The use of wires and cables make it convenient to distribute electricity. But these wires and cables face many problems every day. One of the major problems is that they have a constant threat of damage caused by rodents.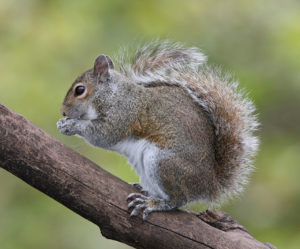 Rodents have a ubiquitous presence and are a nuisance to us. Rodents like squirrels, rats are notorious. They have a pair of incisors which grow throughout their life. Hence to keep them in check they constantly chew on anything they find hard like our wires and cables. They not only damage our wires and cables but they also affect the equipment at the power station.
There have been many incidences where rodents were the culprits causing power outages. This incident happened in Muncie (US) on 3rd February 2016. A squirrel was responsible for a massive power outage leaving more than 4,000 customers without power. A similar incident happened in Tulsa (US) on 5th February 2016. A squirrel caused 40-minute power outage affecting 5,500 customers.
Because of these increasing incidences, people are keeping track of power outages caused by animals. There are also organizations which keep track of such occurrences. The website called cybersquirrel1 recorded a total of  671 power outages caused by squirrels, 255 by birds, 54 by raccoons, 28 by rats, etc. all around the world till the year 2015. The website only showed officially registered incidences, we cannot imagine the total number of undocumented incidences.
The industry is also afraid of these pesky rodents. They are afraid that these rodents can cause heavy monetary losses and can bring any business to stand still.
John C. Inglis, Former Deputy Director, National Security Agency, US, stated that "I don't think paralysis [of the electrical grid] is more likely by cyber attack than by natural disaster. And frankly the number-one threat experienced to date by the US electrical grid is squirrels."
According to the officials of Georgia Power (US), squirrels can cause up to $2 million dollars worth of damage yearly.
Officials at Galvin Electricity Initiative, (US) stated that "Our interconnected and highly visible electric power system is extremely vulnerable, and not just to terrorist attacks and natural disasters. Most power outages are caused by problems in the distribution system, and 85 percent of those are caused by squirrels."
Looking at the above figures and statements there is need of an effective solution as conventional prevention and control methods like the use of pesticides and insecticides have not been effective. These pesticides and insecticides are not designed to sustain manufacturing processes of polymeric applications. They are toxic and hazardous in nature. They leach out of the polymeric applications. They pollute soil and ground water reservoir.
C Tech Corporation  can offer a solution to overcome these problems. RodrepelTM  is an anti-rodent, anti-animal, extremely low toxicity and extremely low hazard, environmentally safe solution. It does not kill target species but only repels them.
The product triggers a fear response in rodents thus protecting the application. It causes severe temporary distress to the mucous membrane of the rodents due to which the pest stays away from the application. The product triggers an unpleasant reaction in case if the pest tries to gnaw away the application. After encountering the above-mentioned emotions, the animal instinctively perceives it with something it should stay away from and stores this information for future reference. The fact that certain rodents are repelled is mimicked by other rodents as well. Thus, the other rodents too stay away from the applications. The unpleasant experience is imprinted within the animal's memory and passed on to its progeny.
The masterbatch of RodrepelTM  can be incorporated in wires and cables, polymer pipes, etc. RodrepelTM  liquid concentrate can be added to paints and then be applied to the polymeric applications.  The product in the form of lacquer can be applied over polymeric application
RodrepelTM  is cost-effective, inert, thermally stable and does not degrade on exposure to heat and sunlight. It does not volatilize and does not degrade in the soil. It is RoHS, RoHS2, REACH, NEA, EU BPR, APVMA compliant and FIFRA exempted.
Contact us at technical.marketing@ctechcorporation.com if you're facing problems with rodents and get best remedies to combat the pest menace.
Also, visit our websites:
http://www.ctechcorporation.com/
http://www.rodrepel.com/
http://www.termirepel.com/
http://www.combirepel.com/
Follow our Facebook pages at:
1] https://www.facebook.com/Combirepel-411710912249274/
2] https://www.facebook.com/Termirepel-104225413091251/
3] https://www.facebook.com/Rodrepel-120734974768048/
Follow us on our Twitter pages at:
1] https://twitter.com/rodrepel
2] https://twitter.com/termirepel
3] https://twitter.com/combirepel