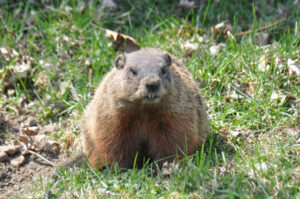 They feed on green vegetables. They dine on beautiful flowers. They burrow holes in the ground.
They are the most annoying and trouble causing pests.
"They" are the GROUNDHOGS!!!
Groundhogs are the largest squirrels of the genus Marmota. The species known by many names such as chuck, whistle pig, groundhog, marmot, monax and others – commonly known as the groundhogs are closely related to tree and ground squirrels, gophers, chipmunks, and prairie dogs.
However, groundhogs are a familiar species in agricultural landscapes within its range, occurring along roadsides, fencerows, pastures, the margins of fields, and even in some suburban habitats. They are normally found in burrows or holes that have been either made by them or by other animals which already left their dwellings.
Groundhogs are sometimes perceived to be pests as they wreak havoc.
How?? Let's go through the following evidences.
Rock chuck wreaks havoc in Pocatello Parks and Rec building
By Journal Staff, Sep 15, 2017, XTREME IDAHO
POCATELLO — Pocatello Parks and Recreation officials aren't entirely sure how a rock chuck got into its storage warehouse by Ross Park. But by the time the intruder was discovered, it had already caused hundreds of dollars in damages.
Officials said recently that the rock chuck had entered the warehouse and set up shop during a weekend this summer. Park officials discovered the damage caused by the marmot the following Monday.
By then, the animal had chewed up some foam kayak seats, cords, cardboard boxes and numerous rubber seals around the garage doors. Some of the damaged items were incredibly difficult to reach.
Though rock chucks have been known to occasionally climb trees, this critter was able to access kayaks that were hanging 10 feet off the ground and a cardboard box that was stored 15 feet above the ground.
The kayaks with the damaged seats were retired from future use, while the cords and the rubber garage door seals were replaced. Park employees also had to disinfect and sanitize numerous items because of the animal waste that was left behind.
Marmots invade Matterhorn area
By swissinfo.ch and Radio SRF, SEP 14, 2017 – 13:38
"So sweet!", coo the tourists. "Shoot them," say the authorities in Zermatt, where marmots have become a plague. The furry rodents are causing damage to meadows and houses. 
Visitors to the Matterhorn region love the animals and their warning whistles. In Zermatt, there is even a marmot trail, and every kiosk sells postcards featuring the pudgy critters.
But these prized photo subjects are less popular with some of the locals. Normally, marmots live several hundred metres above the tree line. However, many have been making their burrows down in the village of Zermatt, damaging farmers' fields. And that's not all.
"If someone leaves a balcony door open, marmots sneak into the house. They also dig beneath retaining walls," Romy Biner-Hauser, Zermatt's mayor, told Swiss Public Radio, SRF. "Now we have to do something; it can't go on like this."
"The risk of accidents is very high when there are so many marmot holes in a meadow," he said, remarking that he almost lost two newborn lambs that had fallen into a marmot burrow.
Yes, the groundhogs burrows are responsible for many accidents and damage to garden grown vegetation. They readily graze in the vegetation leading to rapid crop loss and damage.
These rodents are herbivores, which mean they eat vegetation. Groundhogs eat a variety of vegetation including green grasses, clover, alfalfa dandelion greens, garden vegetables such as beans, peas, and carrots, and in the fall, apples and pears. They also feed on grasses and tree barks.
Groundhogs are solitary creatures, and they spend their summers and falls stuffing themselves and taking naps in the sun. They can eat about a pound of food per sitting.
These round creatures look like little bears when they stand up on their hind legs. Groundhogs also have sharp claws that they use to dig impressive burrows in the ground. Groundhogs keep their burrows tidy by changing out the nesting found inside from time to time.
A groundhog's burrow can be anywhere from 8 to 66 feet long, with multiple exits and a number of chambers. These holes aerate the soil and provide excellent escape hatches for many other animals, but they are dangerous to livestock and farm machinery. They are often thought of as a "valuable nuisance".
Those impressive tunneling skills cause problems for farmers; tractors can break an axle driving over them or people can trip in one of the holes and break a leg.
Typically, they have a burrow in the woods for the winter and a burrow in grassy areas for the warmer months. It is estimated that a woodchuck chucks wood about 700 lbs.
They are the rodents considered as an annoying pest when it comes to inhabiting your place which may sometimes cause a mess especially if they are hunting for food and may eventually cause some unnecessary destruction within your property.
To avoid such hassle there are many things that you can do to rid yourself with your groundhogs problem.
Usually, the methods used to control the groundhogs are shooting, trapping, or treating their home by lethal gases but all these methods seem to be unsuccessful in reducing marmots damage.
Rather than being unsuccessful, the methods are leading to the extinction of the species. Hence to maintain the ecological balance you need an eco-friendly way to combat against these large critters.
C Tech Corporation's RodrepelTM fulfills all you require. RodrepelTM is an extremely low toxicity and extremely low hazard, non-carcinogenic and non-mutagenic anti-rodent pest repellent.
RodrepelTM is manufactured by using the mother's nature gift of senses bestowed to these rodents. It is developed by using green chemistry and modern technology. It does not kill or harm the targeted as well as non-targeted species.
RodrepelTM is available in the form of a masterbatch, liquid concentrate, and lacquer. RodrepelTM masterbatch can be incorporated in the polymer-based products like wires, cables, pipes, agricultural films, equipment polymer parts, etc.
RodrepelTM liquid concentrate and lacquer are the topical applications which can be applied on the surfaces of the application.
The product is compliant with ROHS, ROHS2, ISO, REACH, APVMA, NEA, EU-BPR, and FIFRA exempted.
Contact us at technical.marketing@ctechcorporation.com if you're facing problems with rodents and get best remedies to combat the pest menace.
Also, visit our websites:
http://www.ctechcorporation.com/
http://www.rodrepel.com/
http://www.termirepel.com/
http://www.combirepel.com/
Follow our Facebook pages at:
1] https://www.facebook.com/Combirepel-411710912249274/
2] https://www.facebook.com/Termirepel-104225413091251/
3] https://www.facebook.com/Rodrepel-120734974768048/
Follow us on our Twitter pages at:
1] https://twitter.com/rodrepel
2] https://twitter.com/termirepel
3] https://twitter.com/combirepel